Longhorns And Mini Beer Burros For Weddings
Rent Beer Burros, Mini Wedding Burros, Or Live Texas Longhorn Steers For Ranch Weddings
Beer burros, also known as wedding donkeys are a special addition to any Texas Hill Country or rustic wedding. They work best in pairs, so one can pass party favors while the other is saddled with baskets of drinks for your guests. Our Texas wedding donkeys are the cutest burros in the entire state of Texas – you will not find a cuter pair than Wayon & Willie. Wedding donkeys are fun for greeting guests as they arrive at your ranch wedding. Then they can assist with passing drinks during a cocktail hour. As guests depart they can hold the baskets of party favors. Mini wedding donkeys are going to be the show stoppers of any western themed or rustic wedding.
A Longhorn Steer Can Walk You Down The Aisle and Mini Wedding Donkeys Can Accompany The Flower Girl
Beer Burros Can Serve Drinks To Wedding Guests
Our saddle broken longhorn steers are available for weddings, anniversaries, and other special events. They can be dressed up to match your color scheme. Mini Burros also make great carriers for flower girls' petals!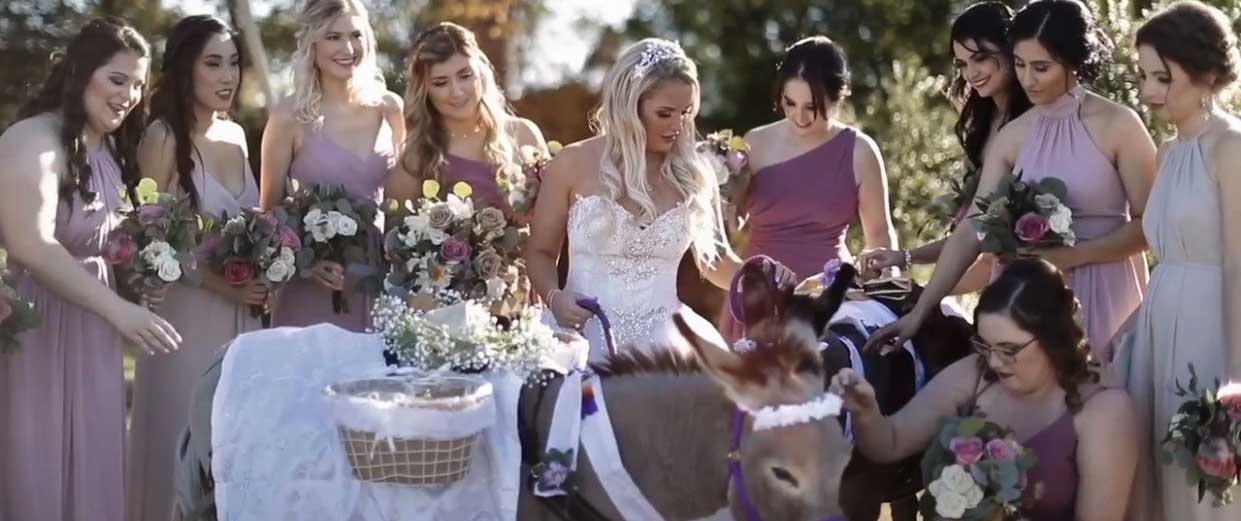 Rent Texas Beer Burros And Wedding Donkeys For Special Events Including:
Weddings
Graduations
Quinceañeras
Proms
Birthday Parties
Corporate Parties
Family Reunions
Beer Burros, Mini Donkeys And Longhorns Are Also  Available For Graduation Parties, Proms, Weddings and Special Events
The Best Longhorns And Mini Beer Burros In Texas
At Cross T Ranch in Bandera, Texas, our animals are groomed and happy when they arrive at your special event, quinceañera, western-themed birthday or rustic ranch wedding. Check out our gallery below.