Beer Burros Party Rental
(aka Miniature Donkeys)
Rent Beer Burros Or Party Donkeys To Add Fun To Your Next Big Event
Wedding Burros | Party Burros | Wedding Donkeys | Event Burros | Party Donkeys | Event Donkeys
A True Texan Party With Mini Beer Burros and Tequila Donkeys
Beer Burros Will Be The Life Of The Party, Rustic Wedding, or Western Themed Birthday in Houston, Austin, San Antonio or the Texas Hill Country
Enjoy your special day and let the Beer Burros, or miniature donkeys, do the work of handing out drinks to your guests. These cute donkeys have customized saddles with baskets to haul beverages around to your party-goers. They are great for quinceaneras, birthday parties, graduation parties, weddings, or any western theme party you are hosting. The Cross T Ranch Beer Burros and Longhorns are Insta-worthy and ready to party!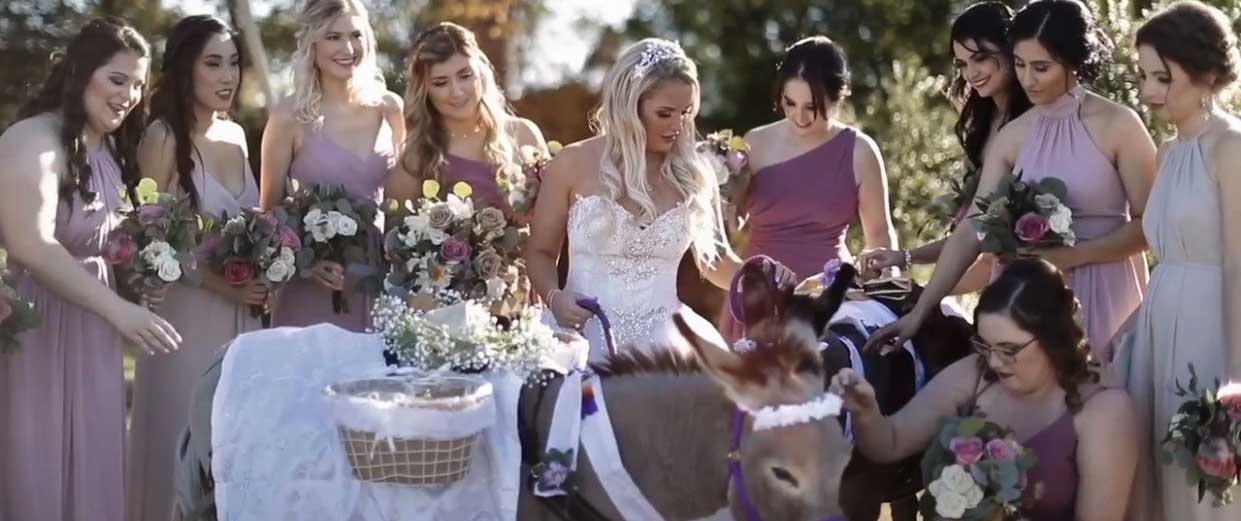 Rent Texas Beer Burros and Tequila Donkeys For Special Events Including:
Weddings
Graduations
Quinceañeras
Proms
Birthday Parties
Corporate Parties
Family Reunions
Beer Burro And Miniature Donkey Bookings Available For Graduation Parties, Proms, Weddings and Special Events
The Best Beer Burros In Texas
At Cross T Ranch in Bandera, Texas, we take pride in the land our animals roam and provide only the best quality of care so you can be sure the tequila donkeys are happy and in pristine condition to be ready for your Hill Country wedding or special event. Mini Burros always work best in pairs. When you book Waylon & Willie or Poncho & Leftie(Soncho) you will not be disappointed. These little guys will surprise you by how much fun they bring to your special event. Whether it is holding cold beers for party guests or flower petals for your ring bearer to walk up the wedding aisle, they come prepared! 
Beach Burros, Tequila Donkeys or Texas Wedding Donkeys Make A Special Event Memorable
Western Themed Ranch Wedding Ideas Include Tequila Donkeys And Wedding Burros
Texas brides will love the sweet mini donkeys that are adorned with garlands of flowers to match their wedding color palette. At Cross T Ranch, our wedding donkeys and tequila burros spend all day primping for their big entrance almost as much as the bride. You ranch wedding will have an authentic Texas vibe with mini donkeys walking around bringing refreshments, beer, wine, and tequila to your guests. Ranch wedding make for great photo opportunities and our Texas wedding donkeys love to pose to make it extra special.